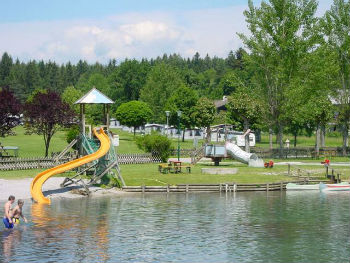 A particularly children-friendly campsite which is situated on the outskirts of the town Faak. The 7 hectare ground is slightly sloping and has rows of trees.
Campsite info: shop, kiosk, restaurant, café, snack bar, baby bathroom, youth lounge, internet and WI-FI from 2015 free.
Bathing facilities: a small waterway where rowing boats can be used, joins the campsite's bathing pond with the Faaker Lake's shore (800 m), gravel and sand beach.
Sport and entertainment: staff in charge of sport, golf (1 km), horse riding, minigolf, sailing courses, wind surfing courses, tennis court, tennis courses, bike rental, boat hire, football, fishing, climbing on the Kanzianiberg, children's playgrounds, kids' play area, disco for children, musical entertainment, films shown, evening entertainment, children looked after by staff with special sports and cultural events.
NEW: updated sanitary block (men's area).
Surrounding area: Ruin Finkenstein, nudelfactory Gödersdorf.
TIP: 8.9. - 13.9.2015 The legendary "European Bike Week" takes place!