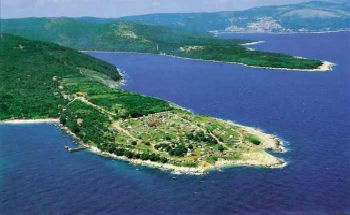 Partly sloping and partly flat, this 5-hectare campsite has scattered trees and bushes on peaceful, secluded ground. A scuba-diving paradise.
Campsite info: grill restaurant, pizzeria, fast food, buffet, supermarket, bar, kiosk, dog showers, ATM.
Bathing facilities: long, rugged cliff coast, stairs to small coves with rough and smooth pebble beach .
Sport and entertainment: in Rabac and Labin: tennis, table tennis, basketball, horse riding, disco, boat mooring, boat slip, footpaths for walks, jogging paths, water-sports facilities (4km), diving centre, diving- equipment rental and filling station, children's entertainment (middle of June until September, 4 - 12 years), massages available.
Surrounding area: Sveta Marina, Labin (10km), Rovinj, Rabac, Pula, Trieste, Rijeka, Lim Fjord Nature Park, nearby Kvarner Islands, (Cres & Lošinj, Rab, Krk), folklore events, monasteries, churches, art galleries, museums.
Miscelleanous: bicycle friendly for mountain bikers.
TIP: A great location for diving!