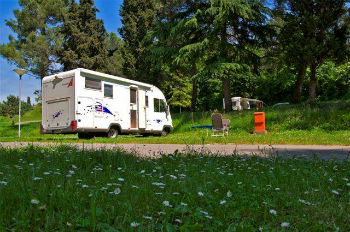 Pitches the size form 70m2 to 130m2 are streching along 7ha of land and are divided in 2 zones: seaside zone and standard zone. All pitches have eletricity, all are numbered and have possibilitie of wi fi and satTv. The Adria Camping ****is located right by the seashore and it is immersed in a beautiful natural environment. The mild climate and the Mediterranean vegetation are perfect for camping. A number of safe and shady paths and courts in the campsite area make this an ideal site for families with small children. The little ones will also find a lot of playground equipment and sandpits in various locations.
For our guest families' convenience we also have installed bathrooms for children.
At the reception of camping we offer: free wi-fi, tourist informtion center, library, possibility of printing and fotocopying, bar for yor pet and helpful staff.
The Adria camping is about an hour´s driving from Slovenia´s capital city, Ljubljana, and 10 minutes from Koper or the Italian border. It is an excellent starting point for visiting a number of Slovene tourist attractions as well as Istria ad its many hidden treasures.